America's East Coast Megalopolis The New Coronavirus 'Hot Zone'
With this Sunday story at MSN reporting that urban centers nationwide are now bracing themselves for a covid-19 catastrophe, with large convention centers, public parks and sports stadiums being transformed into medical field hospitals all across the country, quite concerning but not the least bit surprising are reports that medical care will be divvied out, with the elderly and already ill likely to be completely passed over for any medical care should they contact the virus as the Detroit Free Press reports in this new story.
And with NY city already turning into a war zone as Zero Hedge reports in this important new story, their 9/11 system facing an onslaught as the virus strikes over 700 officers of the NYPD while over 4,000 more officers in the city called in sick, a staggering 11% of the entire force, and now New Yorker's being hunted down in Rhode Island by the National Guard going door to door looking for NY residents who may have 'bugged out' there, one can be forgiven if you, too, feel like we're witnessing some kind of real-life version of the 1997 John Carpenter movie "Escape From New York". And when was the last time you can remember Americans being 'hunted down' over the ordinary flu?
As Yahoo News had reported in this Sunday story titled "New York is at war with the coronavirus. Expect the same across the US, experts warn", what we're now witnessing in NY City is likely coming to every city across America with Dr. Deborah Birx recently warning "no city will be spared". From Yahoo News.
New York City has rapidly become the epicenter of the U.S. coronavirus outbreak, paralyzing a city famous for never standing still as its leaders liken the crisis to war.
The city's bustling streets, thriving public transit and dense population made it uniquely vulnerable to the rapid spread of COVID-19. But other cities, suburbs and rural regions across the nation could see a similarly deadly situation unfold in the near future if swift action is not taken, multiple experts tell USA TODAY.
"New York is getting hit hard, and they're getting hit first," Ashish Jha said. The director of the Harvard Global Health Institute listed city after city and state after state that are showing early signs of a similarly devastating outbreak taking hold.
"New York is not an outlier," Jha said. The virus is on track to hit "every city in America." White House coronavirus response coordinator Dr. Deborah Birx agreed. "No state, no metro area will be spared," Birx said on NBC's "Meet the Press" on Sunday.
What is unfolding in New York City offers a case study in how the virus attacks all aspects of life, as well as what public health experts say needs to be done to beat it back.
So with no end in site to this new public health crisis that has really just begun in America, we'll be taking a look within this ANP story at more signs of trouble ahead in America at a time when law enforcement officers in numerous big cities are being struck hard by this virus, many are warning of potentially mass civil unrest ahead and some Americans are taking the law into their own hands.
(PLEASE HELP SUPPORT ANP: With Independent Media being censored on almost every internet platform, reader donations are what keeps websites like ANP up and running. Your donations are greatly appreciated. Thank you, Susan & Stefan)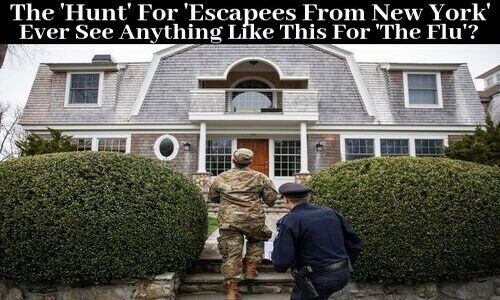 And New York isn't America's only big city now going through a major crisis due to a hollowing out of law enforcement due to coronavirus, as Wayne Dupree reports in this new story, 20% of Detroit police officers are now in quarantine due to the virus, with people living there very concerned over mass civil unrest in the days ahead and some even warning of martial law coming to the city. From Dupree's story.:
Fear is growing in the Detroit Metro area, as word spreads that 20% of the city's police force is now under quarantine. Citizens are now worried about massive civil unrest unfolding in the city.
Currently, Michigan is under a very strict statewide "lockdown." All non-essential businesses are closed and if you're an "essential worker" you have a laminated paper you must keep with you in case you're pulled over so you can prove why you're on the road.
Is the next step to bring in the National Guard and go full "martial law" in the city now that so many officers have fallen ill?
With more and more police departments all across America now experiencing similar situations to what New York and Detroit are going through as officers, frequently exposed to the public, are witnessing coronavirus outbreaks explode all across America, as Dupree also warned within his story, the growing tally raises questions about how laws can and should be enforced during the pandemic, and about how departments will hold up as the virus spreads among those whose work puts them at increased risk of infection.
And as this MSN story reported, wherever this beast hits it automatically brings havoc within just a few days to a few weeks later and the kind of havoc it brings is one that America is totally unprepared for.
In Chicago, the Army Corps of Engineers was preparing to erect 2,500 patient quarters throughout three of the cavernous halls at McCormick Place, the largest convention center in North America.
In Detroit, a major hospital system was readying a letter for patients and their families outlining how scarce ventilators would be allocated, saying those with the best chance of survival would get priority.
And in Albany, Ga., a hospital executive was straining to send patients to other hospitals as the number of deaths doubled in a matter of days at the largest medical center in the southwestern part of the state.
While it ravages New York and metastasizes throughout much of the Northeast, the coronavirus is also quickly bearing down on new hot spots, sending doctors and first responders scrambling to prepare for the onslaught.
Still unable to conduct widespread testing, and fearful as the federal government fails to marshal critical supplies, officials in Boston, Detroit, Chicago, Atlanta, Milwaukee and Los Angeles are watching caseloads climb and taking extraordinary measures to prepare, all the while hoping that aggressive social-distancing measures might ward off the most dismal projections.
"I'm worried that New York might not be the worst-case scenario when you think about other states that have even older and less-healthy populations, and fewer hospital beds available," said Retsef Levi, a professor of operations management at the Massachusetts Institute of Technology who has developed modeling tools designed to help public officials prepare for the spread of the novel virus and the disease it causes, covid-19.
With Central Park in New York being transformed into an emergency hospital helping to underscore the gravity of the situation there, just think about the last statement above for a moment. With people in New York now dying at a rate of more than 4 per hour and deaths continuing to multiply at an exponential rate there, should there be even 'worse case scenarios' across America in big cities or even suburbs, America may be on the fast-track to the worst public health disaster in our nation since the Spanish Flu of 1918-1920.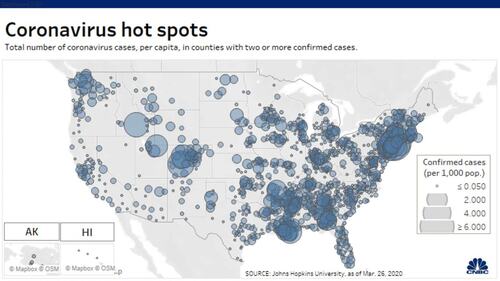 With warnings now coming out from public health officials that 'the worst is yet to come' with this pandemic just getting started here in America, as Mike Adams reported in this recent story at Natural News, America's Surgeon General and the CDC are expecting an explosion of coronavirus cases across "dozens of cities" across America beginning this week. And with America's healthcare system sure to be stretched beyond capacity, as the Wall Street Journal recently reported, this could be 'America's make or break week'
And as Adams also points out in this new story titled "PREPARE FOR WAR: Trump activates one million military reservists as nation prepares for mass combat casualties" as also heard in the final video at the bottom of this story, anybody who thinks this is just 'the ordinary flu' has missed all the signs including President Trump calling up a million reservists and the US military's 'continuity of government teams' going into their Cheyenne Mountain bunkers. From this Natural News story.
We hate to break it to you, but the Wuhan coronavirus biological weapon system release was just the opening salvo in a global war that might see the US invaded by foreign troops, led by the communist-run United Nations which have long sought to eliminate national sovereignty from the world stage.
On Friday, with little fanfare, President Trump signed a new executive order that activates one million military reservists, bringing them back to active duty. This "national security & defense" executive order is entitled, "EO to Order the Selected Reserve and Certain Members of the Individual Ready Reserve of the Armed Forces to Active Duty."
Ponder for a moment what events are taking place that would require the President of the United States to activate one million military reservists. For starters, this executive order obliterates any last shred of the narrative that, "this is just the flu." No flu has resulted in a million soldiers being called to active duty.
The real reason for this call-up is that Trump and the Pentagon know the coronavirus is just the opening salvo in a new world war that was initiated by China to crush America and achieve world domination. The one million reservists are being activated because the Pentagon expects battlefield casualties on a large scale. Because that's what happens when your nation gets invaded by a foreign power.
And in case you didn't think things were serious enough already, the Pentagon just ordered high-level staffers into a deep underground military bunker in Colorado, something that never happens from "just the flu."
With armed vigilante's in Maine cutting down a tree to create a make-shift roadblock to 'quarantine' 3 workers there from New York another sign that people will take the law into their own hands if things continue to devolve in the days ahead, we'll once again stress calm, preparedness and a complete awareness of our own surroundings as panic and stress alone can be a killer during a pandemic.
Both of the first two videos below take a look at the unfolding coronavirus situation in America, where more and more law enforcement officers are getting sick from Covid-19 while in the state of Rhode Island, officers were actually going door to door looking for New York residents while stopping cars with New York license plates.
And as mentioned briefly above, in the final video below, Mike Adams breaks down all of the latest news proving this virus is much worse than just the 'ordinary flu', with the fact alone that people who are from New York and other 'hot spots' are being 'hunted down' a huge red flag that cannot be overlooked.